Merit Brass has been offering piping system solutions to our wholesaler customers in the PVF industry for over 85 years. Our portfolio is comprised of several alloys including brass.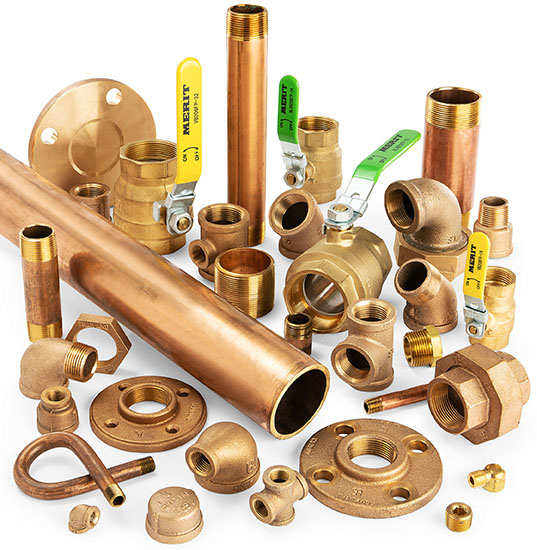 Brass is an alloy made up of copper and zinc and it is a non-ferrous metal. Merit's offering consists of red brass meaning its appearance has a hint of red, and yellow brass which looks golden. A popular yellow brass is alloy 272 which contains 37% zinc and 62-65% copper. Comparatively, red brass are alloys that have substantially lower zinc content and higher copper content. Several refer to red brass as bronze; however, adding tin to a red brass melt is essentially what makes up bronze.
There are several grades of brass. Below are just a few specifically related to plumbing and waterworks applications:
Cold-working increases the hardness of the alloy, controls the grain size of the material by a subsequent full anneal, and it homogenizes the material by moving atoms within the structure after the ingots are poured.
Due to its longevity, pure aesthetics, and superior corrosion resistance, brass is often used in many PVF applications. These include commercial and residential plumbing, waterworks, light irrigation, industrial distribution, architecture, construction, and OEM. It can also be used in oil, gas, and steam applications.
Characteristics of the Brass Alloy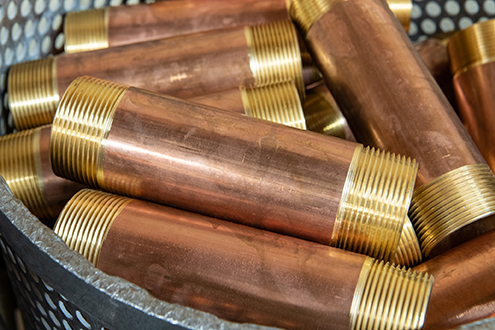 Non-ferrous

metal

Great

heat conductor

Available in

le

ad free for potable water applications

Available in leaded for non-potable water applications
Highly

durable

Highly

malleable

Tolerant of high temperatures

Melting Point at 900°C – 1000°C (1,652°F – 1,832°F)
Reasons to Use the Brass Alloy
Offers

good corrosion resistance

from water and heat

Resists attack from

salt water, acids, minerals, and peaty soils contained in water

Ideal for fittings that require bending or shaping
Benefits of the Brass Alloy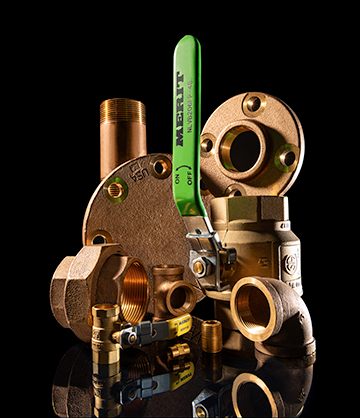 Merit's Brass Product Portfolio