The foundation to any connection is pipe. Pipelines play a vital role in our world today: from the water going into your home, to the waste coming out of buildings, to the gas being pumped into your car, etc. Merit Brass can provide you with the right type of pipe for your industrial, plumbing, and many additional applications.
Our longevity and experience have resulted in strategic vendor alliances that are designed to ensure that the quality you are accustomed to with Merit's manufactured products extends to our purchased products. We know how important consistency and compliance to ASTM & ASME specifications is with any piping system.
o
What is Pipe?
Pipe is a hollow tubular cylinder used to let substances flow through such as liquids, oils, gases, and small particles. Pipe is made from a variety of metals and non-metals. Metal pipes, also referred to as metallic, include stainless steel, carbon steel, ductile iron, aluminum, brass, bronze, and copper. Non-metal pipes, also referred to as non-metallic, include plastic, composite, concrete, and rubber.
Two of the most common types of pipes are seamless and welded. Seamless pipe is made from solid round billets that are heated, extruded to form its shape and then pierced through the center with a die and mandrel resulting in no seams. Welded pipe is made from cold forming flat sheets or plates into circular shapes, then welding the seam.
Pipe is measured not only by length but by nominal pipe size (NPS) and by the schedule (SCH). NPS identifies the size of pipe based on the outside diameter (OD) and remains the same. The pipe schedule, however, does vary as it identifies the wall thickness of the pipe with a dimensionless number. The wall thickness of pipe is measured by the inner diameter (ID); it also determines the strength and amount of pressure the pipe can withstand.
For example, two pieces of pipe may have the same outside diameter but different schedules, which means they have different wall thicknesses, inside diameters, and can withstand different maximum pressures. Since the ID of a larger pipe schedule is smaller, it does not mean that a different schedule with a larger ID should be used; always use the correct schedule to ensure safe installation and correct application.
To determine the pipe schedule, calculate the internal service pressure (P) and the ultimate strength of the pipe (S), both in pounds per square inch, using the following formula:
Schedule = 1,000 x (P/S)
Today, there are 15 types of pipe schedules used in various industrial and plumbing applications: 5, 5S, 10, 10S, 20, 30, 40, 40S, 60, 80, 80S, 100, 120, 140, and 160. Stainless steel pipe schedules are specified with the letter "s" as a suffix to denote the way they are treated and their extra strength. Each pipe schedule falls under one of three categories including standard (STD), extra strong (XS), and double extra strong (XXS).
The most common schedule types are Schedule 40, which usually refers to STD, and Schedule 80, which usually refers to XS (extra strong) or XH (extra heavy). SCH 40 is typically used in residential applications and SCH 80 is typically used in commercial and industrial applications.
The type of pipe you choose to use for your next project is dependent upon the application, fluid, manufacturing method, maximum pressure, and so much more. Each alloy of pipe carries unique properties and benefits. Below we will explore stainless steel, brass, chrome-plated brass and Aluminum (6061-T6):
Benefits of Stainless Steel Pipe
Benefits of Brass Pipe

Excellent Corrosion Resistance to Water and Heat

Resists Attack from Salt Water, Acid, Minerals, and Peaty Soils Contained in Water

Meets ASTM B-43 Specifications.
Compliant to NSF-61
Available in 12' or 20' Lengths
Used in Industrial Distribution, OEM, Schools, Hospitals, Shopping Centers, Commercial Plumbing, Residential Plumbing, Light Irrigation, Automotive, Transportation, Architecture, Construction, Marine, Waterworks, Pool, and Spa Applications
Benefits of Chrome-Plated Brass Pipe
Excellent Corrosion Resistance

Excellent Strength
Benefits of Aluminum Pipe
Excellent Corrosion Resistance
Good Formability and Machining Characteristics
Excellent Appearance After Anodizing

Lighter Weight

Lead-Free

Available in 12' or 20' Lengths
Used in Transportation, Construction, Electrical, Consumer Goods Applications
At Merit, we offer a wide range of pipe that complement our pipe nipples, pipe fittings, flanges, and valves. Our pipe offering includes:
Stainless Steel Pipe
304/L & 316/L Welded
304/L & 316/L Seamless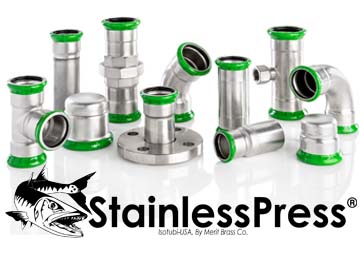 Our stainless steel pipe in schedule 10 mates with our stainless press fittings and valves. Our stainless press offering, known as StainlessPress® is available in 1/2" - 2" in both EPDM and HNBR sealing elements. Press systems offer a cost-effective solution that is reliable for connecting pipes across various industries.
Press fitting systems reduce project costs by 30-50% due to labor and auxiliary material savings. Press fittings reduce the time it takes to install a system, address labor shortages, have reduced overhead and are safe to use.
Gain Insight Into StainlessPress®
Brass Pipe
Chrome-Plated Brass Pipe
Aluminum Pipe (6061-T6)
Looking for safe transport of pipe?
Merit provides flatbed services - WOW runs (Warehouse on Wheels) out of Sparks, Long Beach, Houston, Dallas, Cleveland and Birmingham.