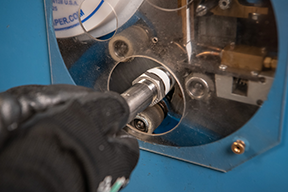 Merit Brass has been the nation's leading pipe nipple manufacturer and master distributor of mating piping products since 1937. We take great pride in the quality products we procure for our wholesaler partners; and we know how important tight seals are throughout your piping system. For these reasons, Merit added teflon tape to our offering in 2002. We also offer sealant services.
PTFE (polytetrafluoroethylene) Thread Tape, also referred to as Plumber's Tape or Teflon Tape, is used to create a tight seal preventing water, gas, and air from leaking through threaded pipe connections. It acts as a lubricant to help make the threading a bit smoother to prevent pipes from sticking when disassembling.
To achieve the tightest seal, the thread tape should be wrapped in the direction of the threaded ends. Since it is designed to create a tight seal on its own, it is not necessary to use pipe sealant or pipe dope on top of the thread tape.
Teflon Tape is versatile and comes in different variations based several factors some of which include: application and density. To determine which type of PTFE Thread Seal Tape should be used in a particular application, the thread sealant is color-coded. Below are the five main colors of teflon tape:
White Tape is single density and designed for general use in plumbing and potable water applications. It is NOT for use in applications carrying oxygen.
Red/Pink Tape is triple density and designed for water lines. It is a heavy-duty tape meant for pipes with larger joints. It is often used in commercial and industrial plumbing applications. Note that the packaging for this thread tape is red while the tape itself is pink.
Yellow Tape is double density and designed for gas and fuel lines. It meets gas company standards for lines of all types such as propane and natural gas.
Green Tape is designed for oxygen applications because it is oil and grease free which helps prevent fires from starting.
Silver Tape has high density and contains impregnated grains of nickel. It is designed to prevent seizing and galling on stainless steel threaded end connections.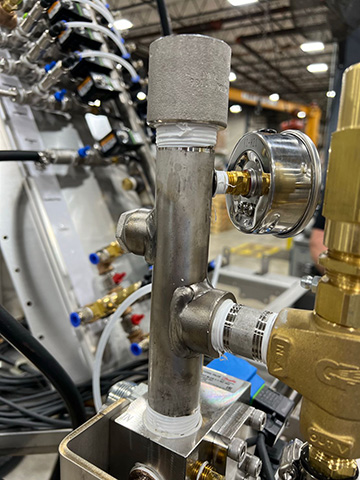 While there are many applications that use PTFE Thread Seal Tape, it's important to understand when it is not needed. Applications involving PVC, Copper, or PEX pipes use alternative sealing methods; and therefore, thread tape is not necessary. Teflon Tape is also not necessary when a rubber gasket or seal is already in place on a threaded pipe connection.
Reasons to Use PTFE Thread Seal Tape
Creates a Tight Seal
Prevents Corrosion of Threads
Suited for environments where solvents, acids, or gases are involved because they cannot react with other elements
Withstand high pressure applications such as fuel injection systems
Benefits of PTFE Thread Seal Tape
Can be easily applied and removed without leaving stickiness around the joints or threads because it has a non-stick backing
Acts as a lubricant for smooth disassembly
Provides Low Friction to help tighten and untighten seals in the future
Ideal for winding around pipe threads and compression joints
Merit's PTFE Thread Seal Tape only requires two wraps to achieve a tight seal. It can also be disassembled and reassembled without any additional thread tape and will still achieve a secure seal. Our teflon tape has anti-galling properties because it is nickel infused which will result in a trouble-free seal.
Characteristics of Merit's Thread Sealant
UL Listed Threaded Sealant 561R
Meets Miliary Specification MIL-T-27730A
Color-Coded by Density
Water Repellent
Chemically Inert
High Arc Resistance
High Pressure Resistance
Non-flammable
Pliable and Non-Hardening