While the name Merit Brass implies that we carry brass piping components, we also carry a vast array of other alloys including stainless steel. Our investment in high-quality stainless steel products spans decades. As a result, Merit's knowledge and experience offers wholesaler partners insight into the factors that impact stainless steel, up-to-date trends within the market, and access to consistent stainless steel products.
Stainless steel has strong mechanical properties including ductility, elasticity, hardness, and formability. It also works well under both high and low temperatures. There are several types of stainless steel: Austenitic, Martensitic, Ferritic, and Duplex.
Austenitic is the most popular and includes the 300 series of stainless steel. Austenitic contains a high percentage of nickel and chromium.
Martensitic stainless steel is less corrosion resistant and magnetic due to low chromium content.
Ferritic stainless steel is generally without nickel.
Duplex houses a combination of austenitic & ferritic steels.
So, what stainless steel alloy does Merit offer? 300-series (also known as austenitic) stainless steel is a corrosion resistant alloy made up of chromium, iron, nickel and other metals. It is not only an aesthetically appealing alloy; but it is also environmentally neutral in that it is recyclable.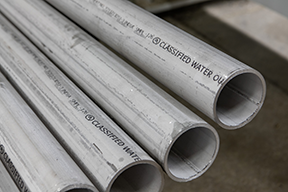 Type 304
Type 304 has a minimum of 18% chromium and 8% nickel with a combined maximum of 0.08% carbon. Type 304 is versatile and is the most widely used. Some of its benefits include durability and resistance to oxidation and corrosion.
Type 316
Type 316 contains 16% chromium, 10% nickel and 2% molybdenum. Molybdenum offers added corrosion resistance to chlorides. Type 316 is also durable and easy to fabricate, weld, and finish.
Grades of Stainless Steel
Stainless steel piping products features three grades: straight, low carbon, and dual.
Straight grade contains a maximum of 0.08% carbon and is notated with 304 and 316.
The low carbon grade has 0.03% or less carbon which is done to avoid carbide precipitation. Low carbon is notated as 304L and 316L.
304 dual grade means that the chemical composition is compliant to 304L while its mechanical properties are compliant to the requirements of straight grade 304. Dual grade stainless has a lower carbon content. You will see dual grade notated as 304/L, 316/L, 304/304L or 316/316L.
Common applications for type 304 include:
Storage tanks
Indoor architecture
Potable water applications
Food handling & processing equipment
Common applications for type 316 include:
Pharmaceutical and chemical manufacturing
Pressure vessels
Medical equipment
Marine equipment
Food & beverage processing plants
Industrial & chemical transportation
Potable water applications
The determining factors surrounding which alloy (304 or 316) is dependent upon the application. Always consult your project team prior to installation.
Characteristics of 304/L & 316/L Stainless Steel
Highly durable
Clean appearance
Contains a minimum of 18% chromium and 8% nickel & maximum of 0.08% carbon
In type 316, molybdenum is present which enhances resistance to pitting corrosion

16% chromium, 10% nickel, 2% molybdenum

Stability at higher temperatures
Reasons to Use 304/L & 316/L Stainless Steel
Cleanliness is maintained in product being transported
Resistant to corrosion from hundreds of industrial & chemical solutions or mixtures
Greater strength at elevated temperatures
Superior mechanical properties at sub-zero temperatures (Cryogenic service)
Retains its lustrous appearance indefinitely
High impact resistance
Benefits of 304/L & 316/L Stainless Steel
Highly sustainable
Resistant to oxidation and attacks from acid
304 is durable, most common & easy to form
316 is resistant to chemical & marine environments
LEARN MORE ABOUT STAINLESS STEEL
Merit's Austenitic Types 304 & 316 Stainless Steel Product Portfolio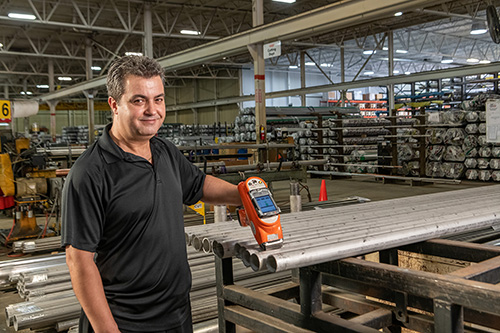 Why is Material Traceability Important?
Material traceability is important because it reduces risk, provides visibility into the supply chain and it improves quality controls. At Merit, we use PMI (Positive Metal Identification) and MTRs (Material Test Reports) with our stainless steel piping components.
Positive metal identification(PMI) verifies the chemical composition of metals and allows. Merit Brass regularly uses PMI to identify and verify 304 or 316 specific to our stainless steel pipe and pipe nipples within our manufacturing processes and to identify and verify the valves, fittings and flanges we master distribute.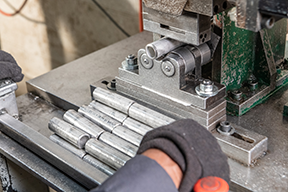 The MTR is a certified mill record of the physical & chemical composition. This document provides you with assurances that the product conforms to the ANSI & ASME specifications and meets the needs of your specific application. Merit provides you access to our online Material Test Reports (MTRs) for free. Note, however, that not all stainless steel products have MTRs.