Merit Brass prides itself on selecting vendors who produce high quality products. To complement our stainless offering of tube fittings and valves, Merit's portfolio also includes stainless steel tubing.
Tubing is a hollow cylinder. It is used to transport fluids, for structural applications and for electrical sheathing.
Stainless tubing is used in a wide variety of applications for instruments, air, hydraulics and any number of fluid handling operations in process plants, paper mills, medical facilities, wineries, breweries and OEM's.
Stainless tubing comes in both welded and seamless. Where mechanical applications are required, seamless offers heavier wall thicknesses. Seamless stainless steel applications include: food & beverage, pharmaceutical, chemical & petrochemical processing. Tube hardness should not exceed RB80. The preferable hardness range is RB 75-80. Welded stainless steel is less costly compared to seamless.
Tubing should be free of any surface defects and imperfections and should be suitable for bending and flaring. For drawn and welded tubing, a derating factor must be used.
For your application, always consult your project team to ensure the proper wall thickness, inner & outer diameter and alloy is used. Please consider the entire design and review your specific system requirements to ensure safety and reliability. To determine the system, the system designer, installer and user should consider: function, material compatibility, adequate ratings, proper installation, operation and maintenance.
Characteristics of Type 304/L & Type 316/L Stainless Steel Tubing
Smooth internal surface resulting in drag & flow loss reduction
Supports higher pressures
Higher strength to weight ratio
Conforms to ASTM A269 or A213 or equivalent (ERW Tubing not recommended)
Seamless is polished stainless steel tubing to 240 grit
Chemical Composition:


Type 304/L=.035% max Carbon, 2% max Manganese, .040% max Phosphorus, .030% max Sulfur, .75% max Silicon, 8-13% Nickel and 18-20% Chromium
Type 316/L= .035% max Carbon, 2% max Manganese, .040% max Phosphorus, .030% max Sulfur, .75% max Silicon, 10-15% Nickel, 16-18% Chromium and 2-3% Molybdenum
Reasons to Use Stainless Steel Tubing
Produces better flow characteristics
Transport of fluids in industrial applications
Type 316\L best for resistance to pitting
Aesthetically appealing
Benefits of Type 304\L & Type 316\L Stainless Steel Tubing
Good formability
Good ductility
Seamless has heavier wall thicknesses
4-1 Safety factor considering tensile strength of 75,000 psi at room temperature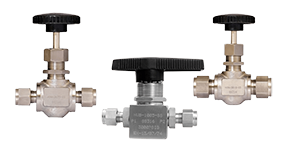 Merit's tubing comes in both bright annealed welded and polished to 240 grit, seamless. Merit Brass' includes:
Available in 1/8" - 1-1/2"
Available in several wall thicknesses: 0.035, 0.049, 0.095, 0.065, 0.083, 0.109, 0.120 and 0.134.
Mates with our tube fitting & valve offering