At Merit Brass, our mission is to set the industry standard for the highest total value of products and services. Our product line management team evaluates opportunities to expand our offering with products that serve your continued needs. In 2011, Merit added A105-N Forged Carbon Steel Fittings and Outlets to our product portfolio.
Forged carbon steel is created through a steel forging process that maximizes the forged materials' natural strength and machinability. It's a steel that contains a high level of carbon as well as other alloys such as nickel, titanium, manganese, chromium, tungsten, and more. There are three main carbon steel grades that contain different levels of carbon:
Low Carbon Steel, also known as mild carbon steel, contains 0.05% to 0.25% carbon. Due to its ductility, it can be easily stretched without becoming brittle which helps it withstand high pressure applications. In addition, alloys can be added to low carbon steel to enhance its properties without increasing its weight.
Medium Carbon Steel contains 0.26% to 0.60% carbon. It offers greater strength and hardness compared to low carbon steel. Medium carbon steel is more ductile than high carbon steel which makes it the perfect balance between the two grades. In addition, medium carbon steel can be heat treated where greater toughness is required without compromising the metal's machinability.
High Carbon Steel contains 0.61% to 1.50% carbon. It offers the greatest strength and hardness compared to low and medium carbon steel. High carbon steel is also less ductile which makes it harder to form. Due to its high carbon composition, it can be heat treated to enhance its hardness for use in high stress and extreme applications without breaking.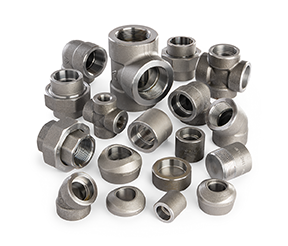 To identify if forged carbon steel has been heat treated, the ASTM specification A105 will denote it as such. A105 forged carbon steel is typically used in piping applications with higher temperature service; and it has also not been heat treated.
A105N forged carbon steel means that the material has normalization heat treatment. Normalization provides better performance and strength in low temperature applications. It also results in a superior metal that works well in high pressure applications.
Forged carbon steel is used in a variety of systems that handle oil, water, natural gas, and steam including oil & gas, chemical, automotive & transportation, architecture & construction, aerospace, mining, and marine.
Characteristics of Forged Carbon Steel
Meets ASTM A105-N/ASME 105-N and ANSI B16.11 specifications
Normalized heat treatment
Conforms to NACE MR0175/MR0103
Reasons to Use Forged Carbon Steel
Works well in high pressure applications
Used in a variety of systems that handle oil, water, natural gas, and steam
Enhanced hardness, strength, and machinability
Benefits of Forged Carbon Steel
Less likely to crack compared to other types of steel which is why it is often used in applications requiring strength
Along with high pressure applications, it's also used to make construction materials, tools, automotive, parts, and more
Merit's Carbon Steel Product Portfolio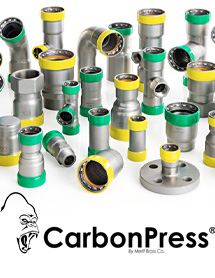 Merit has the most comprehensive inventory of carbon press fittings with over 400 SKUs. Our CarbonPress® fitting offering includes both HNBR and EPDM sealing elements in size ranges 1/2" - 2" . This system has a patented Visual Indicator Press Ring® (VIPR®) which gives redundancy in identifying unpressed connections.