What are Pipe Fittings?
Pipe fittings are a component of many piping systems; and are designed to work alongside pipe, flanges, valves and other items such as gaskets, bolts and specialty items. Each pipe fitting helps the routing of a piping system by changing direction, creating branch connections, and changing the size.
Pipe fittings provide a leak-proof connection to ensure the flow control of a piping system. They can be joined together using several commonly used methods: threading, press, adhesive bonding, solder, brazing, welding, grooved, and more.
Pipe fittings come in a vast array of products in several shapes, sizes and materials. The most commonly used fittings include: pipe nipples, elbows, tees, unions, couplings, reducing couplings, bushings, caps, plugs, wyes, crosses and adapters.
There are several alloys pipe fittings are manufactured from including brass, stainless steel, malleable iron, galvanized malleable, chrome-plated brass, aluminum and more… Malleable Iron is the most common material used as a pipe fitting. Brass is the second most common material used for fittings.
The piping application will determine which alloys, joining method and types of fittings are used. Every application has varying requirements for its fittings such as malleability, durability, corrosion resistance, temperature tolerance, strength, flow rate and more. Always consult your project team prior to installing any pipe fittings into your piping system.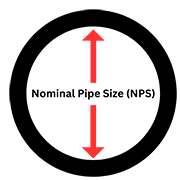 How do I measure a Pipe Fitting?
Pipe fittings are measured by their inner diameter or nominal pipe size (NPS). NPS is a North American set of standard sizes. In 1927, the NPS system of measurement replaced IPS (Iron Pipe Size) which was used to designate the sizes of steel pipes.
The Most Common End Connections
Pipe fittings come in various end connections. The most widely used threaded end connection is NPT, National Pipe Taper which is a tapered thread profile. Some of the other end connections include socket weld, buttweld, press, BSPT (British Standard Pipe Taper), compression, grooved end, flanged, flared, push on, solder joint.
End Connection Abbreviation
Description
End Connection Abbreviation
Descriptions

BSPP

British Standard Pipe Parallel

NPTF

American Standard Taper Pipe Fuel Dryseal Thread (National PIpe Tapered) (Dryseal)

BSPT

British Standard Pipe Taper

NPSH

American Standard Straight Pipe for Hose Couplings (National PIpe Straight Hose)

BV/BBE

Beveled Ends/Bevel Both Ends

NPSL

American National Standard, Straight Pipe Thread for Loose-fitting Mechanical Joints with Locknuts (National PIpe Straight Locknut)

CHT
American Standard Fire Hose Thread (

1" National Hose Thread is Chemical Hose Thread, also known as Booster Hose Thread

NPSM

American Standard Straight Mechanical Joints (National PIpe Straight Mechanical)

FNPT

Female National Pipe Taper Thread

PBE/PE

Plain Both Ends/Plain End

FPT

Female Pipe Thread

P x P (or P x P x P)

Press x Press (or Press x Press x Press)

GHT

Gardon Hose Thread (FGH - Female Garden Hose) (MGH - Male Garden Hose)

P x FPT

Press x Female Pipe Thread

IPS

Iron Pipe Straight Thread

P x FTG

Press x Fitting

IPT

Iron Pipe Thread

P x MPT

Press x Male Pipe Thread

JIC

Joint Industrial Comittee

P x BP

Press x

MNPT

Male National Pipe Taper Thread

SW

Socket Weld

MPT

Male Pipe Thread

TBE

Thread Both Ends

NHT

American Standard Fire Hose Coupling Thread (National Hose Thread also know as National Standard Thread)

VIC

Victaulic Groove

NPT

American Standard Taper Pipe Thread (National Pipe Tapered)
In addition to the variety of end connections pipe fittings have, they also have several ways in which the fitting was formed: cast, barstock, forged and buttweld. Cast pipe fittings are manufactured by pouring molten metal into a mold of the desired product shape. Cast fittings are more porous as compared to barstock or forgings.
A barstock pipe fitting is manufactured by using a blank, slug or billet to extrude shapes and lengths. Forged pipe fittings use a hammer or die to exercise compressive force to shape the metal into the fitting. Forged fittings generally have higher strength over cast fittings.
A buttweld fitting uses a hot formed process that includes bending and forming its shape. Buttweld is cut to length, heated and molded by using dies to form its specific shape. Heat treatment is performed to remove any residual stresses and achieve mechanical properties.
Learn About the Types of Pipe Fittings
Merit Brass' pipe fittings alongside our other products are of on the highest quality. Merit is committed to providing your piping system with consistency and products that are in compliance with ASTM, ANSI and ASME specifications.
The ASTM (American Society for Testing & Materials) specification is the technical requirements that define quality for specified products, materials, systems and services.
The ASME (American Society of Mechanical Engineers) specification is a set of standards covering a wide variety of topics including: pressure technology, construction equipment, piping and much more. Each vendor that Merit forms a strategic alliance with is fully vetted to ensure that their processes include the highest quality throughput to serve the needs of our wholesale distributor partners and all channels thereafter.
The ANSI (American National Standards Institute) specification coordinates and administers a system of standards and conformity. These measures ensure global and U.S. consistency, provides efficiencies, offers cost-savings through uniformity, provides consumers peace of mind and opens markets.
As master distributor, Merit inventories a wide array of pipe fittings. To further serve your needs, industry and application, we offer pipe fittings in the following alloys: brass, copper, stainless steel, chrome-plated brass and carbon. Our offering includes traditional joining methods and press fittings, our engineered solution. Below is Merit's offering of pipe fittings: