Explore Merit's Press Technology: CarbonPress®, CopperPress®, and StainlessPress®
Merit Brass has over 85 years of experience in serving the PVF (Pipe, Valve & Fitting) industry with high quality products which includes our press fittings and valves. Merit's press fittings and valves are engineered solutions designed to help you complete projects safely, on time, and in full.
Press fitting systems reduce project costs by 30-50% due to labor and auxiliary material savings. They reduce the time it takes to install a system, address labor shortages, have reduced overhead, and are safe to use.
Press fitting installations are safe because there is no need to acquire an open flame permit with press fittings and valves. All that is required with a press system are the press fittings and/or valves, a press tool, and the accompanying press jaws/rings.
Merit press fittings and valves provide you with the most comprehensive press package. Our offering serves contractors working in residential and commercial plumbing and industrial applications.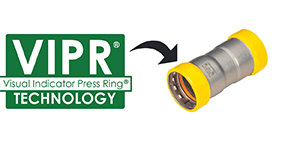 After listening to the voice of customers across varying applications, Merit's team of engineers developed a solution for the installation process. We designed and patented our Visual Indicator Press Ring® (VIPR®) to make it easy for the installer to identify any unpressed joints in the system.
Each press fitting and valve up to 2" has a Visual Indicator Press Ring® (VIPR®) that mirrors the sealing element and ensures proper installation. The ring can be easily removed after the fitting has been pressed. Fittings and valves 2.5" and above have an easily removable identification tag.
Our press fitting offering is available in the following alloys: stainless steel, copper, and carbon; and our press valve offering in stainless steel and copper alloys. Merit's innovative press offering is comprised of 3 brands: CarbonPress®, CopperPress®, and StainlessPress®.