At Merit Brass, we place a very high emphasis on quality because we understand that you need reliable connections in any piping system. Merit's journey as a pipe nipple manufacturer has always been focused on serving your pipe nipple needs with strong inventories and timely deliveries.
Pipe nipples play an important role in both plumbing and industrial applications. Since they are short lengths of pipe with specific end connections such as threaded both ends, threaded one end, etc., they extend or redirect the flow of a system (fluid and gas). The pipe nipple is designed to connect with other fittings or pipes and is available in several alloys, sizes and shapes.
Pipe nipples are considered a fitting which consists of a short piece of pipe that usually has a male pipe thread at each end. The pipe nipple forms a connection between two other fittings. There are specific types of pipe nipples:
Close Nipple – very little of the nipple is exposed once its connections are made because it has no unthreaded area

Standard – does have a gap between the threads on each end

Butt Nipple – this type is shorter in length than close but also has no unthreaded area

Shoulder Pipe Nipple – the next size up from close (since the close and "short/shoulder" nipples vary in length based on diameters). Shoulder nipples are longer than a close nipple and include a very short unthreaded space between the threads. The unthreaded space is not large enough to fit a pipe wrench. When two female fittings are screwed onto either end, a small piece of nipple will remain exposed. A shoulder nipple is the first length of nipple that is available up from a close nipple.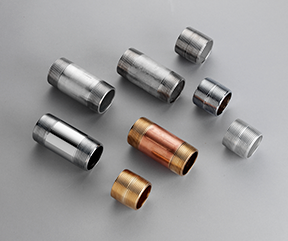 Pipe nipples are available in several alloys:
The application determines which alloy is best suited for longevity of the piping system. Since each alloy has its own benefits & features, it is important to always consult your project team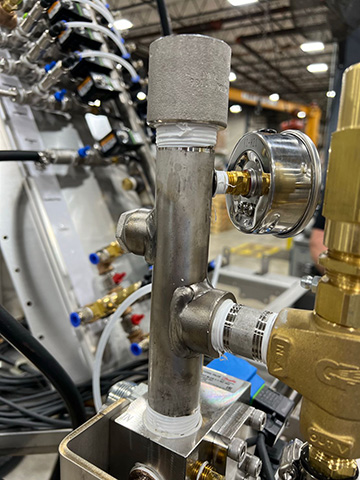 prior to installation to ensure that your alloy of choice will lead to the success of your system.
There are several things to consider for your piping system when installing a pipe nipple: what material is being transported (fluid or gas), the environment that the pipe nipple will be used in, and the intended use of the nipple.
Pipe nipples are available in several end connections to accommodate different applications. They are measured by their diameter, overall length and thread size. The diameter that is selected is based on the pipe fittings or pipe that you are connecting it to within the system.
There are two types of threads are commonly used: NPT (National Pipe Thread) and BSPT (British Standard Pipe Thread). Below are some additional types of end connections (Merit can manufacture these for you):
NPSL: National Pipe Straight Locknut - is for use in applications with locknuts or loose-fitting mechanical joints with locknuts

NPSM: National Pipe Straight – Mechanical - is used for free fitting mechanical joints where there is no internal pressure

NPT: National Pipe Thread - is for general use and a common thread end for standard pipe nipples giving an effective seal for the transportation oof hydraulic fluids

NPTF: National Pipe Thread – Fuel - is used for applications in electrical conduits, fuel connections, and high-pressure pipes carrying gas or fluids; makes a pressure tight seal without the use of lubricant or sealer

NPSH: National Pipe Straight – Hose - is for used for on low-pressure hose couplings and connectors

BSPT: British Standard Pipe Thread - allows male and female components of this thread form to fit together with the ability to withstand pressure
Plain Roller Cut: A piece of pipe is cut on the end with a roller pipe cutter; no additional machining is performed

Square Ream/Squared: A piece of pipe is cut on the end at 90-degree angle to the wall

Ream & Chamfer: A piece of pipe is cut on the end at an angle, usually 38 to 42 degrees, to the wall

Roll Groove: A piece of pipe is cold formed to make a circular groove on the outside diameter without removing any of the material

Cut Groove: A groove is performed by turning the pipe on a lathe and removing metal from the outside surface to create the groove; keeps the interior lining and coating of the material cohesive

1/8" – 1" Diameter Pipe Bending (per print only)

OD/ID (Outside Diameter & Inside Diameter) Machining (per print only)
Because not every application allows for standard, stock pipe nipple installations, Merit Brass provides our customers with custom piping and pipe nipple fabrication solutions. Merit can customize to any length and many per print needs as well as pre-taped and pre-sealed pipe nipples. We can also serve your needs around pipe nipple kits or sets.
It is through innovative technologies and our dedicated team that we have co-designed and developed automatic S-Head threading automation and have fully embraced CNC machining capabilities. In addition to our technological innovations, our operations team utilizes lean manufacturing and practices the pillars of 5S. Between our continued commitment to innovation and lean processes, our goal is to exceed customer expectations surrounding their pipe nipple needs.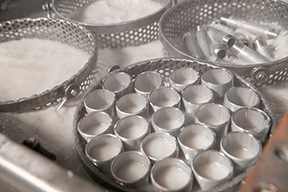 At Merit, our Quality Department recognizes how easy installations need to be, which is why emphasis is placed on product cleanliness, reliability, and traceability. Our pipe nipples go through a wash system to remove any residue, burrs, or chips so that they can arrive to our customers safely and ready for installation.
Merit knows that ease of traceability is critical to any installation; therefore, we stamp each of our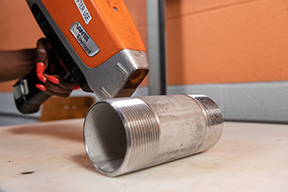 stainless steel nipples with the heat number. Furthermore, we use our PMI (Positive Material Identification) process to put our customers at ease knowing that they are applying the proper alloy grades.
Merit's pipe nipples are available in the following alloys:

Stainless Steel

Brass

Chrome-Plated Brass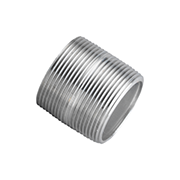 Aluminum