HVAC systems, which stands for Heating, Ventilation, and Air Conditioning, are designed to move air, cooled or heated, throughout indoor commercial or residential spaces. HVAC also improves air quality by removing dust, particles, and bacteria through air filtration. In addition, HVAC can control humidity levels with the use of humidifiers or de-humidifiers keeping the dew points in a space regulated.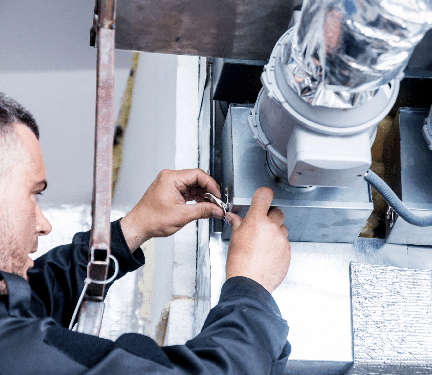 Each HVAC system typically includes three main components: a heating unit, a cooling unit, and an air duct. Each of these components are linked to a thermostat which is the central hub of a space and helps everything sync and work together. The type of system you need will be based upon the HVAC needs, location, age, existing ductwork, and additional factors of your space.
The cooling unit in an HVAC system is the air conditioning unit. The AC unit has a fan that brings in air and forces it over the evaporator coils. The coils are filled with refrigerant which helps draw heat from the air and cool it. It then moves into the air handler which gets blown into the ducts. Any toxic gases are removed as they move through the ducts. The refrigerant vaporizes when the AC unit absorbs heat but to return to its natural state, it must travel into the compressor where it gets pressurized.
From there, it goes to the condenser to condense back into a liquid and then it expels hot air through a fan. HVAC and AC may be often used interchangeably; however, they do refer to two different things. HVAC systems consists of several components that work together to regulate the temperature and ventilation in a building, whereas AC only cools a building. AC units are not always included in HVAC.
Heat pumps, like AC units, cool the air when heat is absorbed by the refrigerant and pushed out of the space. However, they can also warm the air by drawing cold air from the outside over much cooler refrigerant. The heat will then get drawn back into the refrigerant which warms the coils. From there, the air is drawn over the coils rising to the desired temperature and blown into the home. This HVAC component is often used in warmer climates.
The heating unit in an HVAC system is the furnace. A gas furnace warms a space by drawing in air through the ducts forcing it into the furnace. While the furnace is running, the combustion chamber heats the exchanger, and the air gets pushed through the exchanger which blows the heat throughout the house.
An oil furnace pumps oil from a reserve tank to through a filter into a chamber. From there, the oil is converted into a mist and sprays the burner which ignites a flame and warms the exchanger. Like the gas furnace, the air is forced into the exchanger and gets pushed throughout the space.
The air ducts in an HVAC system are the passages that deliver and remove air throughout the space; they help ventilate the inside of homes and buildings. In addition, HVAC systems can consist of purifiers, humidifiers, dehumidifiers, and other products to enhance the air quality throughout the home through the control of a thermostat.
There are several types of HVAC systems to fit various consumer needs which include:
Heating and Cooling Split System

– This type of HVAC system is

most common

in homes. It is split between two main units. The

heating unit

is located inside, typically in a basement or storage space, and uses gas to warm the space. The

cooling unit

is located outside and uses refrigerant, compressors, and coils to cool the space.

Hybrid Split System

– This type of HVAC system can

heat spaces through electricity or gas.

This allows homeowners and building owners to decide how they'd like to heat their spaces. It can help mitigate energy costs because electricity is more efficient whereas gas power is quicker and more complete.

Duct-Free System

– This type of HVAC system

has individual units in each room

within a large space which a

llows for independent control

. Energy is conserved because home and building owners can decide which rooms to warm or cool as opposed to using this energy in rooms that aren't used at often. These are often used in offices and hotels allowing individuals to control the room temperature they feel most comfortable in as opposed to adapting to what the larger unit is set at.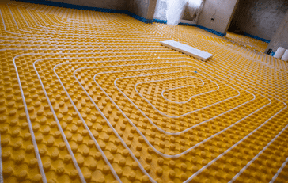 Hydronic Heating System

– This type of HVAC system

uses liquid to radiate heat

as opposed to air. This is a

closed loop system

meaning the water is contained in the piping. A boiler heats water and distributes it throughout the space using pipes under the flooring; and therefore, eliminating any rising heat loss.

Packed Heating and Air System

– This type of HVAC system has a

contained heating and cooling unit that is stored within a home

, typically in an attic or storage space on the top floor. The heat is generated electrically; however, other forms can combine both gas and electrical capabilities. Many homes in

warmer climates tend to use this HVAC system

because the hot air isn't as powerful as other that may be frequently used in colder climates.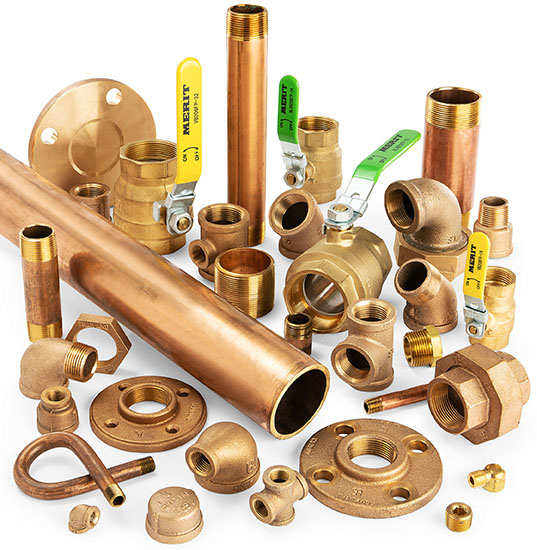 At Merit, our brass pipe nipples and leaded brass fittings are often used in closed loop, hydronic heating HVAC systems. Brass is often used as a component in this HVAC system because it uses liquid rather than air to radiate warmth in a space.
Benefits of Brass Used in HVAC Applications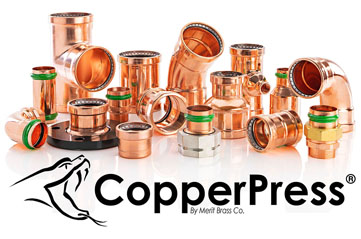 Press Fittings Make HVAC Installations Easier
Another solution for your HVAC installations is press fittings and valves. Press systems have become popular in HVAC applications due to their ease of installation, efficiency and durability. Press fitting systems reduce project costs by 30-50% due to labor and auxiliary material savings. Press fittings reduce the time it takes to install a system, address labor shortages, have reduced overhead and are safe to use. Merit has the most comprehensive package of copper press fittings and valves known as CopperPress®. Our offering is available in 1/2" - 4" with an EPDM sealing element.
LEARN MORE ABOUT PRESS SYSTEMS
Common Products of Merit Used in the HVAC Industry