Merit Brass' commitment to quality continues with our line of press fittings and valves in copper branded as CopperPress®. CopperPress® allow tubes to be joined mechanically without threading or soldering which provides 30-50% in savings on overall project costs.
Merit's CopperPress® product offering includes elbows, tees, couplings, reducers, caps, adapters, unions, flanges, and valves. CopperPress® is available in sizes 1/2" - 4" in the EPDM (Water) sealing element. CopperPress® fittings offer a 50-year limited warranty and valves offer a 5-year limited warranty.
We understand how important proper installation is to contractors, owners, engineers, and wholesale distributors. Merit Brass' patented Visual Indicator Press Ring® (VIPR®) makes it easy for contractors to identify the application and any unpressed connections even from 30 feet in the air.
The VIPR® is a PVC band that can easily be removed once the connection is pressed. The VIPR®, along with the box and bag labels, are color-coded to the application indicating the sealing element material. This allows for ease of receipt and ensures a safe and proper installation.
Additionally, CopperPress® fittings and valves have a working pressure of 300 psi. The temperature range for CopperPress® fittings and valves is 0°F to 250°F. CopperPress® is currently certified to IAPMO Z1117, ICC-ED LC1002, NSF/ANSI/CAN 61, NSF/ANSI/CAN 372, and ASME B16.51.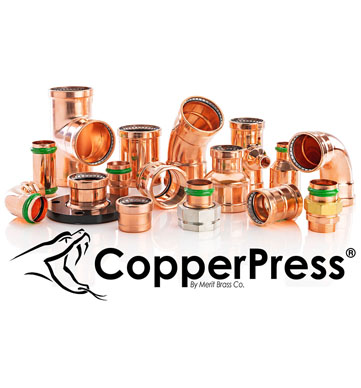 CopperPress® Benefits & Features
Copper Tube Size (CTS)
Leak Before Press (LBP) System

3-Path LBP on 1/2"
4-Path LBP on 3/4-2"
2-1/2" - 4" also have a LBP

Designed to be used with ASTM B88 Type K, L, and M Copper Tubing (hard drawn condition 1/2" - 4")
Permanent application printing directly on fitting for easily visual inspection for life of application for H2O and gas (small & large diameters)
Permanent application color markings allow visual inspection for H2O green EPDM applications and gas yellow HNBR applications
NSF61 on fittings
2-1/2" - 4" have the fully captured grab ring and 100% sealing element for protection at installation
Box, bag and ring are color-coordinated for ease of identifying the sealing element
8/16/2023 12:28:06 PM