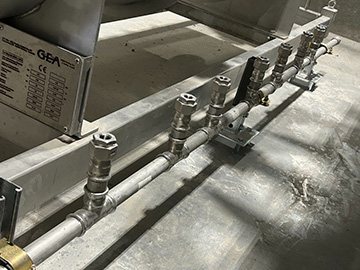 As a manufacturer and master distributor for over 85 years, we are proud to serve the needs of several industries including the industrial industry. Merit understands how important quality and consistency are to consumers of finished products within the industrial industry. We value the input of our customers and their role within each industry, which is why our products and solutions are manufactured, procured, and designed with application and industry in mind.
The industrial industry encompasses multiple industries and sectors that process or manufacture raw materials and goods intended for industrial use. These products are then used in manufacturing processes to produce other goods but can also be sold directly to end users. There are many different types of industrial applications such as process control, manufacturing automation, and energy management.
Some of the most common industrial applications are included in the following industries:
Chemical Industry

– The chemical industry is comprised of industries that produce different types of products through the heavy use of chemicals. Some of the chemical producing industries include

inorganic & organic industries,

fertilizer industries, and refining & petroleum

industries. Chemical plants have harsh environments for metals, and they rely on stainless steel because of its corrosion resistant capabilities.

Pharmaceutical Industry

– The pharmaceutical industry includes the discovery, development, production, and distribution of drugs and medications by both public and private organizations. This industry uses scientific research to develop drugs that prevent or treat diseases and disorders. Pharmaceutical plants utilize

stainless steel

because of its

durability, high pressure tolerance, and corrosion resistance

.
Pulp and Paper Industry

– The pulp and paper industry includes the d

evelopment of pulp, paper, paperboard, and other cellulose-based products

from wood or recycled fiber. This industry includes many different types of mills, products, and processes to produce the finished products. The liquors used in pulp and paper processing are highly corrosive which is why stainless steel is an optimal choice.

Brewing Industry

– The brewing industry includes the

development and production of alcoholic beverages

made from malted barley and hops including beer, malt liquor, and non-alcoholic beer. Stainless steel is an optimal choice in brewing applications because it does not produce any off flavors. Additionally, storage tanks and transport lines are highly acidic and require an alloy that is corrosion resistant. For these reasons, stainless steel plays an optimal role in the brewing industry.

Winemaking Industry

– The winemaking industry is comprised of companies that are involved in the winemaking process which includes

growing and harvesting grapes, crushing grapes into unfermented wine, and fermenting the wine.

Manufacturing wine requires an alloy that is durable, corrosion resistant, and easy to clean in all the process equipment. As a result, stainless steel is the alloy of choice because it carries all of these properties.

Agriculture Industry

– The agriculture industry is comprised of companies and organizations that

produce food or crops for consumption

. This industry also includes businesses that produce farm equipment, seeds, and any other goods and services that help this industry become more efficient.

Stainless steel serves the agricultural industry well

due to

its: unchanging appearance/lack of aging, corrosion resistance, appealing surface properties which are easy to clean, and ability to not produce any off flavors.

Food Processing Industry

– The food processing industry involves the

transformation of agricultural products into food consumed

on an everyday basis. It also involves modifying a food item into another form of food. Often, food processing must be formed into complex shapes. An ideal alloy to utilize in processing is

stainless steel

not only because of its ability to support the shapes that food processing requires; but also, because it can be

cleaned & sterilized without deterioration,

carries corrosion resistant properties, and

does not produce any off flavors or colors.

Aerospace Industry

– The aerospace industry involves the research, development, design, and manufacture of aircraft and spacecraft products for flight and space exploration. This industry includes aircraft, spacecraft, and the components that go into these vehicles. Aerospace

requires products

that

maintain their mechanical properties

amid a wide range of temperatures as well as products that

resist corrosion

and

high temperature oxidation

. Merit offers a solution for this industry through our stainless-steel PVF products.
Each of these industrial industries play a major role throughout the world because the finished products are used by consumers on an everyday basis; and, as you can see, stainless steel impacts each one of them in a positive way.
EXPLORE MORE ABOUT YOUR INDUSTRY
Stainless steel's unique qualities and excellent corrosion resistance make it a perfect solution for several applications as demonstrated above. This metal is 100% recyclable and retains a shiny appearance over a long period of time. Stainless steel is easy to maintain and germ-resistant, which is critical since safety is a top priority throughout various industrial applications. It's also very tolerant of high and low temperatures, making it adaptable for each different type of manufacturing process. Stainless steel is extremely tough, strong & durable.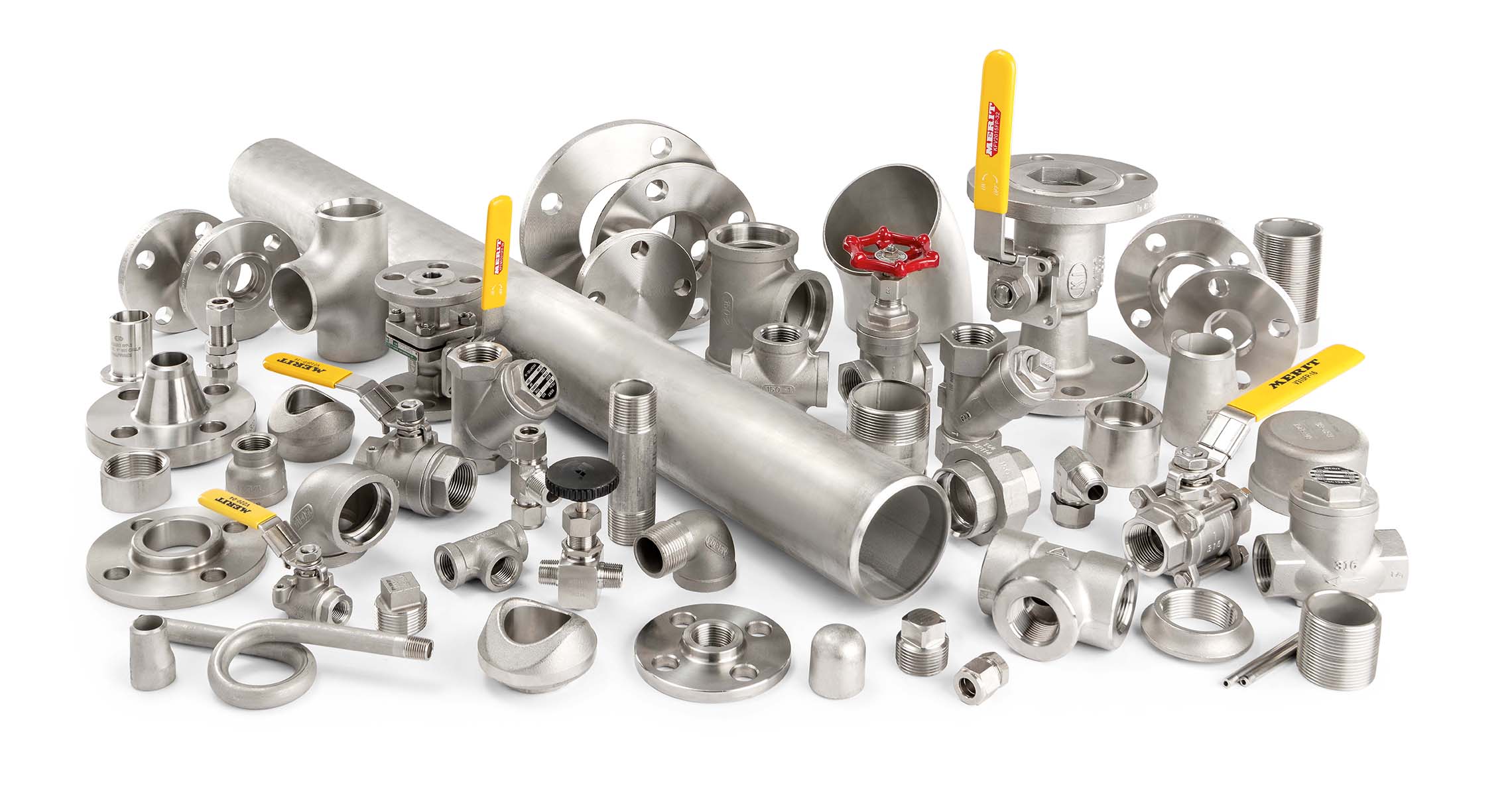 Benefits of Stainless Steel Used in Industrial Applications
Excellent Corrosion Resistance

& Strength

Great Thermal Conductor

Retains Lustrous Appearance for a Long Period of Time

Tolerates High and Low Temperatures
Cleanliness is Maintained in Product Being Transported
High Impact Resistance
LEARN MORE ABOUT STAINLESS STEEL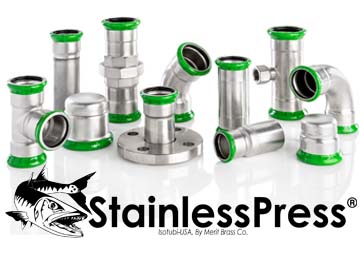 Stainless Steel Press Fittings Make Industrial Installations Easier
Another solution for your industrial installations is stainless steel press fittings and valves. Stainless Steel Press systems have become popular in industrial applications due to their ease of installation, corrosion resistance and reduced risk of contamination. Press fitting systems reduce project costs by 30-50% due to labor and auxiliary material savings. Press fittings reduce the time it takes to install a system, address labor shortages, have reduced overhead and are safe to use. Merit has the most comprehensive package of stainless steel press fittings and valves known as StainlessPress®. Our offering is available in 1/2" - 2" in EPDM and HNBR sealing elements.
LEARN MORE ABOUT STAINLESSPRESS®
Common Products of Merit Used in Industrial Applications