At Merit Brass, we are committed to providing our customers with new and innovative solutions that will help complete the piping projects of tomorrow. The latest addition to our press offering includes CarbonPress®, our line of carbon steel press fittings. CarbonPress® fittings allow pipes to be joined mechanically without threading or soldering; no solvents, thread sealants, or open flames are required.
CarbonPress® fittings are easy to install and require less technical skills as compared to brazing, soldering, and welding. Overall project costs are 30-50% less than those made with other joining methods due to labor and auxiliary material savings. In addition, project planning is streamlined for owners, engineers, general contractors, and plumbing contractors saving both time and money in project execution.
Merit's CarbonPress® fittings have the most comprehensive offering for your carbon press applications with over 400 SKUs including couplings, elbows, tees, adapters, fitting reducers, caps, unions, and flanges. CarbonPress® fittings are available in sizes ½" – 2" in EPDM & HNBR sealing elements.
EPDM (Ethylene Propylene Diene Monomer) is used for water applications and HNBR (Hydrogenated Nitrile Butadiene Rubber) for gas applications. The CarbonPress® EPDM sealing element is black color code and the HNBR sealing element is yellow color code.
CarbonPress® fittings do require tooling to make the connection with the pipe. The type of tooling used in these applications physically "presses" the fittings onto the pipe creating a mechanically sound joint. Merit's CarbonPress® can be pressed with Milwaukee or Rigid press tools and the associated jaws and rings for carbon steel applications.
In addition to saving customers time and money, CarbonPress® fittings have many benefits and features. CarbonPress® fittings are designed for ease of installation with project time and costs in mind. Each fitting has a dual leak detection feature which helps identify unpressed connections. The engineered sealing elements are designed to leak before they are pressed, giving a visual indication of a connection that has not been pressed.
Merit Brass is the first to market the VIPR® (Visual Indicator Press Ring®), which is standard on CarbonPress® as well as our CopperPress® and StainlessPress® product lines. The VIPR® allows for easy identification of the application and unpressed connections even from 30 feet in the air.
The VIPR® is a PVC band that can easily be removed once the connection is completely pressed. Along with the VIPR®, the box and bag labels are color-coded to the application indicating the sealing element material which allows for ease of receipt but also ensures a proper and safe installation. EPDM fittings have a green VIPR® for water applications and HNBR fittings have a yellow VIPR® for gas applications.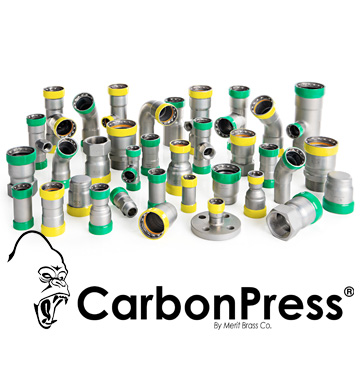 CarbonPress® Benefits & Features
15-Year Limited Warranty
Leak Before Press (LBP) Technology
Grab Ring Deforms and Grips Outside Diameter of Pipe When Pressed, Securing the Fitting and Preventing Movement During the Pressing Process
EPDM Working Pressure Range from Full Vacuum to 250 psi (17.2 bar) for Water
HNBR Working Pressure Range from Full Vacuum 125 psi (8.6 bar) for Gas
Corrosion Resistant Zn-Ni (Zinc Nickel) Plating Surface Protection Ensures Years of Trouble-Free Service
Used in Hydronic Heating, the Conveyance of Fluids, Gases, Oils, and Low-Pressure Steam Applications
EPDM Temperature Range: -40°F to 300°F (-40°C to 148°C)
HNBR Temperature Range: -40°F to 200°F (-40°C to 93°C)
Certifications Include: IAPMO Z 1117 (EPDM) and IAPMO/ANSI LC 4/CSA 6.32 (HNBR)
7/27/2023 12:15:19 PM