Merit Brass is committed to partnering with vendors who share our commitment to providing consistent, high-quality valves which are vital to the pipeline's sustainability. As you know, piping systems rely on quality connections that serve the needs of the application and valves play a key role in throttling the flow of any system.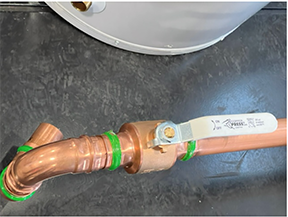 Valves are devices that control, regulate, or direct flow of liquids and gas within various systems. A valve helps manage the pipeline by opening, closing, or partially blocking the flow. Valves come in many forms to fit the needs throughout several industry applications including commercial and residential plumbing, water and wastewater treatment, pharmaceutical, power generation, oil and gas, and so much more. It's important to understand that the valve you choose impacts the overall performance within the application. This includes how much control you have over the flow and how the valve operates.
Two of the most common types of valve openings include quarter turn valve and multi-turn valves. Quarter-turn valves fully open or close with a 90-degree turn. Multi-turn valves open or close by turning the valve handle or hand wheel; these valves must be turned multiple times to fully open or close.
Furthermore, it's important to understand the different types of valves and their functions to help determine which will be the most ideal for your application. Some of the most common types of valves include: ball (full port, standard port, reduced port), gate, check (including swing check and y-pattern swing check), butterfly, globe, pressure relief and instrumentation. The most commonly used is the gate valve.
For ball valves, the type of port the valve has determines the flow throughout the system. There are 3 common types: standard port, reduced port and full port.
Full Port – the valve has an oversized ball so the hole in the port is the same as the inner diameter (ID) of the pipeline; there is 100% flow through the pipeline.

Standard Port – the valve has a smaller port than the ID of the pipeline; there is about 75% of flow through the pipeline.

Reduced Port – the valve has an even smaller port than the ID of the pipeline; there is about 65% of flow through the pipeline.
Another feature in valves to consider is the valve's end connection. The valve end connection must be compatible with your piping system. Some of the most common types of valve end connections include:
Threaded End

Connections

are

threaded onto the pipe providing a

streamlined connection

. This type of valve end connection typically has

female threaded ends

that fit onto the male

threaded

pipe

ends.

Flanged End

Connections

are bolted onto the pipe with pipe flanges. The type of flange used will vary depending on the application and the industry standard

required for the application

.

Socket Weld and Butt Weld

End

Connections

are

both welded onto the pipe

.

Socket weld end connections have an ID that is

slightly larger

than the

pipe's OD

.

W

hen the pipe is inserted into the valve end,

the pipe is

welded around the end connections. Butt

weld

end connections and the pipe

have equal diameters

and the out

side

edge of the valve and pipe are filled with a welding material.

Press End Connections

use a press tool, jaws and where applicable, rings to

press-connect the joints together. This type of connections does not require soldering, brazing, threading or welding. Press end connections are available in

3

types of profiles: V profile

,

M profile

,

and Grab-Ring. Please note that all 3 Profiles can be used with Copper Tube Size (CTS) or Iron Pipe Size (IPS), please refer to the Press Fitting/Valve being used for the correct joint.
At Merit Brass, our valves are available in several alloys: Stainless steel, brass and copper. Our stainless steel valves are corrosion resistant. We carry several types of valves in stainless steel including our "K" Series, "V" Series, Instrumentation and our engineered solution, StainlessPress®.
Brass
Our brass valve offering is comprised of ball valves. Merit carries both leaded and lead-free. Lead-free can serve your potable water applications.
Merit's Brass Ball Valve Offering Includes: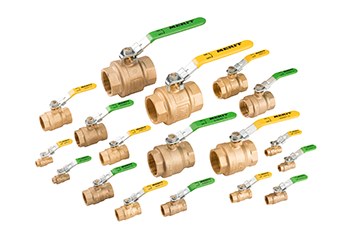 Benefits of Brass Valves
Excellent Corrosion Resistance to Water and Heat 

Resists Attack from Salt Water, Acid, Minerals, and Peaty Soils Contained in Water 

600PSI Non-Shock WOG 125 PSI SWP Rating

Conforms to MSS-SP-110

Threaded Ends ANSI B1.20.1
CSA Gas Approved for Valves up to 2" (IPS only)

Lead free is compliant to NSF61 and suitable for potable water applications

Lead free 2-½" - 4" is UL/FM Approved
Stainless Steel
"K" Series – China
Ball valves: 1PC, 2PC, 3PC
"V" Series

– Taiwan
Swing check & wye pattern swing check

Y-strainers

Gate valves

Threaded, socket weld

Standard, full

Repair kits
Instrumentation
FNPT and MNPT available

Vee-Stem, Regulating Needle

Tube Ball full port and 3-way
Ball valve

IPS (Iron Pipe Size) 1/2" - 2"

Available in EPDM & HNBR sealing elements

Easy & quick installation without need for soldering or threading

Full port

5-Year limited warranty
Patented VIPR® band (

VIsual

Indicator Press Ring®) facilitates immediate identification of unpressed connections
Mates with Merit's stainless steel schedule 10 pipe
Benefits of Stainless Steel Valves
Corrosion resistant

Prevents contamination of the product from small particles, rust and scale

Excellent strength

Durability

Ducticlity

Retains lustrous appearance over a long period of time
Copper
Merit's CopperPress® valves come with a 5-year limited warranty. The CopperPress® valve is designed to be used with ASTM B88 Type K, L and M copper tubing.
Benefits of CopperPress® Valves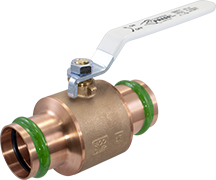 Patented VIPR® Band (Visual Indicator Press Ring®) facilitates immediate identification of unpressed connections

Maximum working pressure: 300 psi

Leak Before Press (LBP) System

5-Year limited warranty

Cast C89836 Bronze body with copper retainers

Easy & quick installation without need for soldering or threading
Suitable for installation in most plumbing & heating systems including hydronic heating, low pressure steam (15 psi max), and potable water
Corrosion resistant
Cost-effective due to long-term cost savings due to ease of installation, durability and leak-free performance
Copper Ends protect against dezinctification and stress corrosion cracking
Reduced fire risk since no open flame is required at installation